You are here
Back to top
50 People Who Messed up the World (Paperback)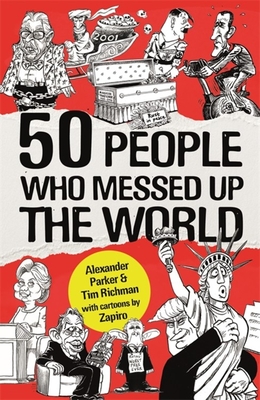 Description
---
Who would top your list of the fifty people who have done the most to make the modern world a worse place?
'I can't imagine how they whittled it down to just 50 people' - comedian
Nik Rabinowitz
'A fantastic thought-provoking book that renews my appreciation for history. It reminds us how we got here and how we can avoid things getting worse'
Mandla Shongwe, SAFM Lifestyle
'A fascinating, terrific read'
Gareth Cliff, CliffCentral
From despotic mass-murderers to sports cheats, and from corrupt politicians to truly dreadful celebrities, who has had the most damaging -- or vexatious -- impact in their particular sphere of modern life?
This line-up of the very worst of the twentieth century and beyond includes the obvious candidates: those who have caused extraordinary damage through their murderous paranoia, brutal avarice, or demented self-regard -- Stalin, King Leopold, Idi Amin and the like.
But murderous dictators aside, there are plenty of others who deserve recognition for their role in making the world a significantly more dangerous or, at the very least, more annoying place: terrorist Carlos the Jackal; Robert Oppenheimer, the man who gave the world the atomic bomb; notorious sports cheat Lance Armstrong; and the one and only President Donald Trump, who has of course succeeded in making the world both more annoying and more dangerous.
This perfectly focused spotlight on infamy is illustrated throughout by award-winning political cartoonist Zapiro.
About the Author
---
Alexander Parker (Author)
Alexander Parker has authored a number of books with Tim Richman, and written for publications in the UK, South Africa, Australia and New Zealand.

Tim Richman (Author)
Tim Richman has authored a number of books with Alexander Parker, and written for publications in the UK, South Africa, Australia and New Zealand.

Zapiro is South Africa's premier political cartoonist; among numerous accolades, he has won the International Publishers Association's Freedom to Publish Prize.
Praise For…
---
A book which is likely to launch a few thousand arguments about who else ought to have been included . . . with superb cartoons from Zapiro . . . And I applaud the inclusion of the nameless lady who assures us, 'Your call is so important to us that we've been ignoring you for seventeen minutes at your expense.'—Jay Heale, Fine Music Radio Christmas 2017 recommendation

Interesting stuff - go read it!—Good Hope FM

Interesting stuff - go read it!—Nigel Pierce, Good Hope FM

I can't imagine how they whittled it down to just 50 people'.

I can't imagine how they whittled it down to just 50 people'.—Comedian Nik Rabinowitz

Brilliant. D'you remember Meg Ryan's orgasm in When Harry Met Sally? No, I didn't have an orgasm (sadly) reading the book, but I did yell Yes Yes Yes!

Brilliant. D'you remember Meg Ryan's orgasm in When Harry Met Sally? No, I didn't have an orgasm (sadly) reading the book, but I did yell Yes Yes Yes!—Gorry Bowes Taylor

A fascinating, terrific read.—CliffCentral

A fascinating, terrific read.—Gareth Cliff, CliffCentral

A fantastic thought-provoking book that renews my appreciation for history. It reminds us how we got here and how we can avoid things getting worse.—SAFM Lifestyle

A fantastic thought-provoking book that renews my appreciation for history. It reminds us how we got here and how we can avoid things getting worse.—Mandla Shongwe, SAFM Lifestyle

A book which is likely to launch a few thousand arguments about who else ought to have been included . . . with superb cartoons from Zapiro . . . And I applaud the inclusion of the nameless lady who assures us, 'Your call is so important to us that we've been ignoring you for seventeen minutes at your expense.'—Fine Music Radio Christmas 2017 recommendation